Live Sessions 0-20 / Live Sessions 20-40 / Live Sessions 40-60
Once a month Icarus Radio invites an artist to play live during our radioshow in the Urgent Studio.
We prefer to give the artist more than only 3 songs on air, and let them play during 45 minutes, followed by an interview.
Icarus live session#1 by Echo Beatty (13/02/2011)
Listen Here!
ECHO BEATTY is a duo of rambling souls. Armed with an old organ, a vibraphonette, a set of hair combs, guitars, metal springs, a loop station and a drum; they roam the sonic plains searching for rapture. She sings her soul out and he enfolds her in atmospheric sound tapestry. ECHO BEATTY evokes disturbing beauty that can sound vast and forbidding as well as soft and vulnerable in the same moment. Dreamy and intriguing.
Icarus live session#2:Pauwel De Buck (20/03/2011)
Listen Here!
Pauwel De Buck is a soundartist living and working in Ghent, Belgium. His soundworks have been presented in installations as well as in performances.

He utilizes location recordings of the urban environment to combine them with analogue electronic sounds. The end result is as much time
based as it is sculptural and spatial. The work traverse between concrete sound environments and abstract sonic spaces.
Pauwel De Buck participated in residencies, performed his work in Belgium, The Netherlands, Germany and the USA. Made installations, soundtracks for various purposes. His sound works are released at the London Based Entr'acte label.


Icarus live session#3:SX (17/04/2011)
SX is a Belgian indie pop group from Kortrijk with Stefanie Callebaut on vocals & keys and Benjamin Desmet guitar & keys.
In Januar 2011 they were discovered on national radio channel Studio Brussel as they won 'Vibe on Air' with the song 'Black Video'.
Sx uses organs, synths and a lot of reverb to create an infinite space. It's music for outsiders. At this moment they work on a first full album, that's also why we were not allowed to put their set as a podcast.

Icarus Live Sessions #4: The Kilimanjaro Dark Jazz Ensemble (22/05/2011)
Listen Here!
This international ensemble first got going back in 2000 with the aim of composing contemporary soundtracks to existing silent films and animations. Naturally, the project has evolved over the years, gaining French vocalist Charlotte Cegarra, guitarist, Eelco Bosman, British trombonist Hilary Jeffery, Chrome Hoof's violinist Sadie Anderson and Swiss cellist Nina Hitz, amongst others. While not traditionally jazz, the sound is undoubtedly dark, touching on achingly slow drone rumbles, triphop, noise, ambient textures and creating a subtle balance between analogue and digital technologies.
Icarus got permission to do an interview and to record their set at Once Upon A Festival 2011, Laarne.
Special thanks to Jacob, Gee, Eelco & Gideon.
Icarus Live Sessions #5: Nils Frahm (22/05/2011)
Listen Here!
Nils Frahm, born in 1982, had an early introduction to music. During his childhood he was taught to play piano by Nahum Brodski – a student of the last scholar of Tschaikowski. It was through this that Nils began to immerse himself in the styles of the classical pianists before him as well as contemporary composers. Today Nils Frahm works as a composer and producer in Berlin. In early 2008 he founded Durton Studio, where he has worked with likeminded musicians.
Icarus got permission to do an interview and to record two sets, one at Piano Anders in Hasselt, the other was an intimate living room concert in Gent.
Special thanks to Nils, Pieter and Laurent.
Icarus Live Sessions #6: Jozef Van Wissem (18/09/2011)
Listen Here!
Dutch Lutenist Jozef Van Wissem is renowned for his experimental approach to Renaissance and Baroque forms of lute music. By cutting-and-pasting classical pieces, constructing palindromic melodies, or adding electronics and processed field recordings, he manages to seamlessly bridge the musical languages of 17th and 21st centuries. If this approach seems coldly academic on paper, the results are anything but: his music is uncluttered and direct, with a viscerally hypnotic and emotional impact, and delivered with an ascetic intensity reflected both in his Biblical titles and his No Wave influences. He has collaborated with James Blackshaw, Keiji Haino and Jim Jarmusch among others.. Van Wissem studied lute in New york with Pat O'Brien and released a classical lute CD " A Rose By Any Other Name" consisting of anonymous lute pieces. He lectures on 'the liberation of the lute' ( At Harvard, Wesleyan University, Mills College amongst others) and was commissioned by London's National Gallery to compose a sound piece to Hans Holbein's painting "The Ambassadors". His work is featured more and more in documentaries and feature films, Van Wissem composed and performed lute and voice pieces for the new Sims Medieval video game. He played some unreleased tracks in our studio.
Icarus Live Sessions #7: Kaboom Karavan (23/10/2011)
Listen Here!
With Kaboom Karavan it's hard to know quite where to start – the Belgian collective led by Bram Bosteels have a history in theatre, film and contemporary dance, but that doesn't really help shine a light on their music. They have collaborated with musicians all over the world including Miasmah's very own Kreng, and released a debut album on Mexico's Umlo imprint, but again this probably only gives a small indicator of what the collective actually sound like. There is something effortlessly surreal about the band, and surrealism is an aspect of art often attempted and very rarely perfected. Here Bosteels abuses his choice of instruments (and players) to the point where the listener would barely be able to place which instruments were being used at all, in fact at times you'd be hard pressed even to place what sort of music it was. Through a haze of pizzicato strings, clouds of sullen reverberation and clamorous percussion you get the feeling that you have been catapulted into a universe just outside of perception; somewhere cold and unforgiving where regularity is turned upside down just to toy with our strict ideas of reality. Jazz and Dadaism might be the cornerstones of 'Barra Barra' but these disparate influences are twisted and melted beyond recognition leaving only remnants on the finished product.
Icarus Live Sessions #8: Nils Frahm (06/11/2011)
Listen Here!
Nils Frahm, born in 1982, had an early introduction to music. During his childhood he was taught to play piano by Nahum Brodski – a student of the last scholar of Tschaikowski. It was through this that Nils began to immerse himself in the styles of the classical pianists before him as well as contemporary composers. Today Nils Frahm works as a composer and producer in Berlin. In early 2008 he founded Durton Studio, where he has worked with likeminded musicians. We had already a live session that we were allowed to record at some concerts in our country, but now Nils came to the Urgent FM studio to play a session. There is no soundcloud on his session, because Nils asked us not to put it on the net.
Icarus Live Sessions #9: Love Like Birds (13/11/2011)
Listen Here!
Love Like Birds is het geesteskind van Elke De Mey, een 24-jarige uit het Gentse die gezegend is met een warme, dromerige stem. Het geeft haar slaapkamerfolk vanzelf al een aantrekkelijk intimistisch karakter. Reeds enkele tijd speelt ze als Love Like Birds voor ieder die een luisterend oor heeft en met een snel groeiend aantal liefhebbers werd het tijd voor een eerste worp: een titelloze debuut-EP in eigen beheer opgenomen en uitgebracht in een (voorlopig) gelimiteerde oplage van vijfhonderd handgenummerde exemplaren. Op haar EP kleedt Elke haar donker eerlijke, heerlijke naïeve liedjes af en toe aan met subtiele arrangementen, verzorgd door het producerduo Jinte Deprez (Balthazar) en Gertjan Van Hellemont (Douglas Firs, The Bony King of Nowhere). Het zorgt ervoor dat de liedjes helemaal beginnen te ademen en te leven. Het hele verhaal wordt je in het oor gefluisterd met zicht op een sferisch decor, vaak heb je zelfs de indruk dat ze wil vermijden dat de buren stiekem meeluisteren naar haar persoonlijke ontboezemingen.
Icarus Live Sessions #10: Kreng (04/12/2011)
Listen Here!
Kreng started as a strictly sample-based project, working with sounds from various sources: free-jazz, first generation electronics, improv, classical modernism, vintage ethnomusical fieldrecordings, etc... The project mutated into a cinematic, theatrical device that has been used by various film and theater directors. Kreng scored more that 20 theatre- & danceproductions, most of them produced by the Belgian theatre-company Abattoir Fermé. Kreng produced a remix for Badawi's Unit Of Resistance Album (Badawi = Raz Mesinai who also records for John Zorn's Tzadik label) The debut album, titled ' L'Autopsie Phenomenale De Dieu' was released on the excellent Miasmah label (artistic co-ordination by Erik Skodvin, aka Svarte Greiner / Deaf Center). The sequel, the blackly monikered 'Grimoire' simply re-enforces Caudron's shadowy legacy with a similarly dank concoction of cracked strings, creaking percussion and half-heard dialogue. Thankfully however Caudron has refined his craft in every way, from the artfully restrained layering of samples to the deliriously magickal atmosphere he manages to conjure up. Caudron's background in theatre no doubt forms a strong foundation for his compositions, but there is so much about his work that only creeps into the light after countless hours of study. These songs are best suited to moonlight, strong spice-laced liquors and the dark recesses of our painfully dull existence. Pepijn Caudron has formed a grimy, surreal ode to not only the past, but also what the future might hold, and from the sounds of it we're not getting off lightly. But then we're all so tired of pretty, aren't we?
Icarus Live Sessions #11: Esther Venrooy (22/01/2012)
Listen Here!
(°1974, Rosmalen, The Netherlands) is a composer working in the field of audio art. After completing studies in classical saxophone, Venrooy attended the European Dance Development Center (Arnhem) as a composer in residence, where she began employing electronic and digital techniques in pieces aimed at choreography and stage performance.
Gradually her music evolved into an independent means of expression and she continued her work with electronica at the IPEM (Institute for Psycho-acoustics and Electronic Music) in Ghent, Belgium where she still resides.
At this time she started utilizing film editing paradigms as a foundation for her personal composition methods. Her works range from purely electronic composed music to improvised combinations of electronica with traditional instrumentation such as piano, guqin, pipa and satsuma-biwa. She has created site-specific works as well as multimedia performances and installations. Much of her music has been released on CD or vinyl at Entr'acte Label (UK) and has received good critical acclaim.
Esther Venrooy has performed her music extensively for audiences in cities such as Antwerp, Amsterdam, Rotterdam, Brussels, Berlin, Madrid, Hamburg, Cologne, Frankfurt, Washington DC, New York, Hangzhou, Xi'an, Shanghai and Beijing. She collaborated with visual artists Hans Demeulenaere and Lieve D'hondt, architects Ema Bonifacic and Olivier Goethals, performer / choreographer Femke Gyselinck and with musicans Min Xiao-Fen (pipa), Wu Na (guqin), Kato Hideki (electronics/ bass), Lander Gyselinck (drums) and Heleen Van Haegenborgh (piano).
Icarus Live Sessions #12: Chris Brokaw// The Catamites (Stephen O'Malley+Chris Brokaw) (12/02/2012)
Listen Here!
The Catamites prove it only takes two to shred your eardrums to
pieces. Soundterrorist Stephen O'Malley is a role model of the
(sludge) metal scene thanks to his work with Sunn O))) and
Khanate. Chris Brokaw was the fantastic drummer of slowcore
band Codeine and guitarist of indie rock legend Come. With this
fresh collaboration these two gentlemen know how to brew a
strange though well balanced recipe of intense drones and
bittersweet pounding. Earplugs recommended.
Brokaw did a solo session for Icarus at our studio in Gent.
The Catamites performed at Icarus Night, DOK Gent, Belgium.
Icarus Live Sessions #13: Rafael Anton Irisarri (09/04/2012)
Listen Here!
Rafael Anton Irisarri is an American composer, multi-instrumentalist, curator, producer and interdisciplinary artist. He is predominantly associated with post-minimalist, drone and ambient music and has been exploring textural electronics for over half a decade.
Irisarri's recorded output captures an essential vision of floating tones, deep pulsing bass and textured Gaussian curves. His use of ostinato phrases taps into minimalist ideals, whilst his use of atmospheric layers of reverb suggests a more cinematic quality. In all, Irisarri's compositions are deeply emotive and epic to the point of being symphonic. His work is widely published in over a dozen labels around the globe, including respected labels like Touch, Room40, Ghostly International, Miasmah.

Rafael played at Icarus Night @ DOK, Gent and did a live session in our studio at Urgent.Fm.
Icarus Live Sessions #14: Liesa Van der Aa (15/04/2012)
Listen Here!
Liesa is only five years old when she first plays the violin. Bach and Mozart are her loyal companions. Along the way, the old masters have to share Liesa with contemporary artists like The Velvet Underground, Prince and Chet Baker.
In 2009 and 2010, Liesa performs together with several musicians, but her solo shows remain her core business. The combination of a classical training along with a strong urge to experiment results in music that combines avant-garde, soundscapes en rock music.
It's no coincidence that her music also finds its way into theater. Her compositions can be heard in De Geruchten (Guy Cassiers), a piece in which Liesa also performs as an actress. Liesa writes the music for Ijsland, a widely praised short film by Gilles Coulier.
Spring 2013, Liesa will be making her opera debut, the Berlin-based Kaleidoscope-ensemble will be playing the music that she wrote.

Liesa Van Der Aa just released her first album. It was recorded and mixed in the studio of Einstürzende Neubauten in Berlin, together with Boris Wilsdorf as producer, engineer and co-producer with the Neubauten. Just about everything you can hear on the album was composed and played by Liesa. Her main instrument, the violin, is used as a percussion instrument, trumpet, orchestra, bass guitar, or just to produce pure noise. That way, Liesa and Boris built an empire of sound. An ode to a lost revolution and love. The marching of troops is never far away. On a couple of tracks you can hear guest musicians contributing to the album: a Berlin child choir, the musicians of belgian band DAAU, or trumpet player Jon Birdsong.
The album also has a visual aspect. Liesa went looking for 10 directors, film makers and video artists and asked each of them to make a video for one particular song. The result is a list in which we find theater director Guy Cassiers and fashion photographer Marc Lagrange.
Icarus Live Sessions #15: Machinefabriek (06/05/2012)
Listen Here!
Rutger Zuydervelt was born on 28 July 1978 in Apeldoorn (The Netherlands), but now resides in Rotterdam. He started working as Machinefabriek in 2004. The name (meaning 'machine factory') was on the façade of a building Rutger passed everytime he went shopping for groceries. Except for a few piano and guitar lessons when he was young, Rutger didn't study music. Instead, he graduated as a graphic designer.
Machinefabriek's music combines elements of ambient, noise, minimalism, drone and field recordings. His pieces unfold as 'films without image', with a sharp ear for detail. After releasing a series of self released CD-Rs, the official debut, 'Marijn', was issued by Lampse in 2006. Since then a solid stream of singles and albums was released on labels like Type, 12K, Spekk, Dekorder, Digitalis, Experimedia and Staalplaat.
Rutger collaborated (on record and/or live) with numerous artists, such as Ralph Steinbrüchel, Aaron Martin, Peter Broderick, Frans de Waard, Wouter van Veldhoven, Simon Nabatov, Xela, Simon Scott, Steve Roden, Gareth Davis and Tim Caitlin amongst others.
Icarus Live Sessions #16: Still Corners (10/06/2012)
Listen Here!
Many bands lay claim to the adjective "cinematic." But how many can claim a truly cinema-worthy moment as part of their inception? It was a dark and foggy night when Still Corners songwriter Greg Hughes first laid eyes on vocalist Tessa Murray. "It sounds stupid but it's completely true," he recounts. "I was on a train that was going to London Bridge. But for some reason it went to this other stop. And I got out, and this other person got out. It was Tessa."
It was a fitting moment for the American musician who came to London to pursue a career in music. A devoted cinephile—whose first release Remember Pepper recalls both the youthful tone of French New Wave and the unease of Italian horror—Hughes sees film as a major influence, from the projections (created by band member Leon Dufficy) that feature heavily in their live performances ("It's nice to have something lovely to look at"), to the free-floating grace of debut full-length, Creatures of an Hour. "There're just certain things in certain movies, like older horror movies and other foreign films, that you see sometimes. They just have a certain vibe and atmosphere," says Hughes. "You'll see a girl walking towards a train, it's very atmospheric. There's a great vibe in that—all these little bits, these tiny moments. That's what I was trying to go back to. To bottle that up and put it into a song." Icarus recorded their set in Charlatan.
Icarus Live Sessions #17: Jan Swerts (08/07/2012)
Listen Here!
Jan Swerts (born in Sint-Truiden, living in Hasselt, BE) was as a teenager strongly influenced by Wim Mertens, Philip Glass and Keith Jarrett. More recently artists like Max Richter and Goldmund had also a sudden impact on him.
During summer 2010 his first album 'Weg' got released. A journey through dark streets, with only piano & a thin voice. After a while, the record got the most fantastic reviews, and got national press attention. Ancienne Belgique asked him to be artist in residence for their new season. This set is recorded at Piano Anders #2 in Hasselt, where he also performs some new songs with his ensemble.
We expect him to release a second record in fall this year.

Icarus Live Sessions #18: Dolphins Into The Future (14/10/2012)
Listen Here!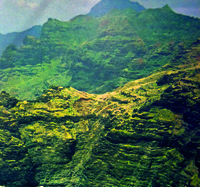 Antwerp-based sound artist Lieven Martens (aka Lieven Moana) has been making and releasing music as Dolphins Into The Future since 2007. Many of the earliest releases came in the form of cassettes on small boutique labels such as Pacific City Sound Visions (the label run by Spencer Clark of The Skaters) or Cetacean Nation Cassettes, a subsidiary of Martens' own Taped Sounds label. With its obsessive focus on the ambient drift and primitive recording style of early new age music, Dolphins Into The Future materialized at the beginning of what was to become a major thread in the post-noise cassette underground. The project's breakthrough came with the 2009 release of the …On Sea-Faring Isolation LP on Not Not Fun, which further developed the DITF sound toward a uniquely contemporary iteration of exotica, with original field recordings playing an increasingly important role. He released earlier this year a new album entitled Canto Arquipélago on the Underwater Peoples label.
Icarus Live Sessions #19: Premonition Factory (11/11/2012)
Listen Here!
For Premonition-Factory mastermind Sjaak Overgaauw, staying true to the emotional resonance and sonic foundations of the ambient genre has always been essential.
At the same time, merely paying homage has never been enough for him. Over the course of four albums within two years, he has come ever closer to carving out a distinct style of his own, fusing the sound of legends like Brian Eno and Steve Roach with an uncompromising live approach: Overgaauw's releases are invariably culled from long sessions recorded over the course of several months, which are later evaluated and edited. As such, each album contains the essence of up to twenty hours of material, with individual tracks representing snapshots of extensive improvisations.
Icarus Live Sessions #20: Dez Mona (27/01/2013)
Listen Here!
Dez Mona starts as a duo between double bass player Nicolas Rombouts and vocalist Gregory Frateur. They find themselves in their mutual roots of jazz, drama, experimental and spirituals. The surprising unique experience of their first concert at Recyclart in 2003 convinces them to continue working together. Shortly after Gregory and Nicolas start writing their own songs. Dez Mona is born.
They choose a path of intense playing and create a strong live-reputation in the belgian underground. This results in three concerts at belgium's most famous concerthall, Ancienne Belgique in Brussels. Dez Mona becomes the first band ever to do this without having published any album. Acclaimed by critics and fans, Dez Mona records its first album "Pursued Sinners" in a church.
In the following years they released 'MOMENTS OF DEJECTION OR DESPONDENCY' & 'HILFE KOMMT'. In 2011 they made 'Sàga', a highly acclaimed song cycle/opera with baroque instruments, a 'Gesamtkunstwerk' with artists from other disciplines. In 2012 they release their youngest album, A Gentleman's Agreement, where they sound poppier than ever-without loosing their own identity.